Jan 3 2015
Jan Hahn's The Secret Betrothal made it on to the Best Austenesque Historical Novels 2014 on Austenprose's list this year.  The Secret Betrothal is a Pride & Prejudice Alternate Path story in which Fitzwilliam Darcy learns that Elizabeth Bennet is secretly engaged to another man which ruins his chances of winning her hand, but fate keeps throwing them together.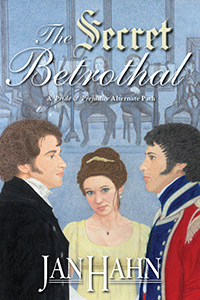 Austenprose was started in 2007 by Laurel Ann Nattress, a life-long acolyte of Jane Austen.  It is now a blog staffed by a diverse group of individual who share a love for all things Austen.  It has over 600 reviews under it's belt. "We pride ourselves in our honest, in depth reviews and our thorough research on any topic we present."
Jan Hahn has also been honored with making this respected list within the Austenesque genre in 2012 with The Journey which also earned the Reader's Choice Award, and in 2011 with An Arranged Marriage with the Best Indie Book Award.
Hahn is currently working on another Austenesque book due out in 2015 titled Stolen Past.